News

Mar 31, 2022 by Foresight
Forensic Medical Examiner vs Forensic Pathologist: What's the Difference?
The role of an expert witness in any case is significant. Most cases requiring an expert witness are complex, and selecting the right expert is crucial to the success of a case. The differences in certain expert witness roles may seem negligible but knowing a forensic pathologist from a forensic medical examiner is vital when considering who you need to work on your case.
What is a Forensic Pathologist?
A pathologist is a doctor who works specifically on the study and diagnosis of disease and how it affects the cells and tissues within the body. There are a number of areas of pathology including:
Haematology - blood and bone disorders
Chemical pathology - using biochemical tests to diagnose disease
Histopathology - performing autopsies to determine cause of death with a special focus on cancer management through staging and grading of tumours.
A forensic pathologist will perform extensive investigations of 'body-based' evidence. They may be called upon in cases that include medical negligence, misdiagnoses of a disease, or physical trauma. If death has occurred, a forensic pathologist will be able to establish the probable cause. If death doesn't happen right away, they will be able to establish how long death took to occur. Forensic pathologists perform tests on body tissue and fluids, and can also examine evidence documenting the scene of an incident, accident, or crime, as well as analysing the surrounding circumstances.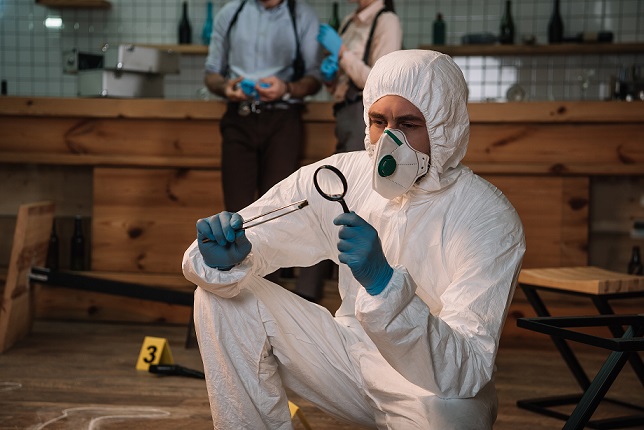 What is a Forensic Medical Examiner?
A forensic medical examiner or FME is a senior doctor who may specialise in surgery, gynecology, peadiatrics, or general medicine. Some FMEs will have more experience in cases involving physical or sexual assault in adults, some may work primarily with children, while others may focus on individuals with mental health issues.  All forensic examiners are experienced in working on cases of death or injury with unusual or suspicious circumstances.
A forensic medical examiner will study medical records, photographic evidence, and may give a physical exam of an individual involved in a case. They will also work alongside the legal team in a trial, and may work with the prosecution or defence experts to produce a joint statement.
What are the Key Differences Between the Two Roles?
While a forensic medical examiner may carry out a physical examination of an individual or body involved in a case, a forensic pathologist will perform extensive testing of tissue, blood, and other bodily fluids.
An FME has the expertise to rigorously study medical records, photographs, and other case evidence, and a forensic pathologist will focus more on lab testing.
A forensic pathologist can establish level of conscious pain and suffering in an individual surrounding a death, and a forensic medical examiner can comment on the mental state of an individual leading up to an incident, accident, or crime.
Both our forensic pathologists and forensic medical experts are qualified to provide a full report and an objective opinion in complex cases and are extremely experienced at testifying in court when necessary. At Foresight, we specialize in family, criminal and immigration law, and when instructed we hand select an expert witness from our nationwide panel to ensure they meet the unique requirements of your case. Please get in touch if you'd like to talk to our team about our huge range of expert witnesses.