News

Jul 12, 2023 by Foresight
Do We See A Surge Of Youth Crime In The Summer Months?
Having just experienced the hottest June since records began, the summer is set to bring us plenty of sunshine and fun. However, there is a darker reality that the summer months also bring and that is the increase in crime and particularly youth crime.
Every year, communities across the UK and globally witness a surge in criminal activities during the summer months, with the BBC reporting that "between April 2010 and June 2018, violent crime was on average 14% higher when the temperature was above 20C than when it was below 10C. Harassment and weapons possession offences were each 16% higher." Figures from around the world including Philadelphia, Dallas and Mexico have also seen similar trends.
But why the increase and what kinds of crimes are we seeing?
Increased alcohol and substance use
During the summer, when socialising and parties are more prevalent, drinking and drug use intensify. Sadly, increased substance consumption can lead to a spike in violence and other criminal activity. We've written before about how alcohol consumption can increase violent behaviour due to the fact that it "acts on brain centres that are involved in aggression and lowers inhibitions that may ordinarily keep aggressive impulses in check." Lowered inhibitions may also lead to other impulsive behaviour such as theft.
Summer habits leaving homes vulnerable
During the summer months homes are left unoccupied for longer lengths of time as people jet off on holidays, and as they air out their homes, windows and doors are more likely to be left open, these are just some of the summer habits causing home burglaries to increase in the summer months.
In recent years, a lot more people are investing in heightened security including cameras on their premises, however, despite this, almost 60% of the 1,000 UK residents surveyed by John Lewis Home Insurance admitted to never locking their downstairs windows, leaving them open to criminals entering at will.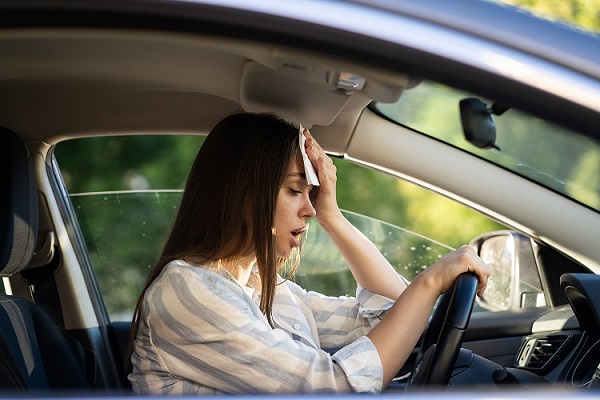 Heat can impact temper and impulsivity
We can probably all relate to feeling more irritable in the heat and research shows that heat can have an impact on human behaviour, including influencing temperament and potentially contributing to an increase in crime rates. Heat waves, in particular, have been associated with a rise in violent behaviour and criminal activity.
Youth crime and school holidays
Youth crime can also spike during the summer, a big reason for this being the 6-week summer holidays. Disadvantaged areas often experience higher rates of youth crime particularly during the school holidays due to the fact that the young people who may rely on their school as a safe and supportive environment now have nowhere to go and no structure or safe place. Children's charity Barnardo's said "it was concerned that many children, who are being targeted by sexual predators or other criminals, are "invisible" during the holidays, when they spend less time with trusted adults and many working parents are unable to watch over them or afford activities and holiday clubs." Former Children's Commissioner Anne Longfield noted that "well-organised drug gangs are always need more young people to work for them, so they invest a lot of time, effort and energy into recruitment."
What happens to young people who commit crimes?
In any society, the issue of youth crime is a pressing concern. In the UK, we acknowledge the importance of addressing the root causes of criminal behaviour among young individuals and the government aims to offer a path towards rehabilitation and reintegration which includes Young Offending Teams, community lead sentences, education and skills development, and mentoring and counselling programs. Of course, teams of experts are necessary when it comes to assessing those involved in criminal activity and helping to establish the best way to move forward for the community and the individual.
What types of experts need to be involved in youth crime cases?
There are a number of experts who need to be involved in youth criminal cases including Child Psychologists who work with individuals to determine the psychological impact of particular events throughout childhood and adolescent years.
Child psychologists assess and report on psychological, mental, emotional, developmental, and behavioural challenges and identify behavioural and emotional patterns, diagnose disorders, and they determine if a client is fit to plead during a trial. Providing vital expertise in a wide range of specialist areas, including care proceedings, parenting capacity, sexual offences and domestic violence, Foresight's Child Psychologists use their expert knowledge to deliver valuable insight to any case.
Social workers and Paediatricians may also need to be involved in cases involving minors, both of which Foresight can provide. Our list of expert witnesses is extensive, and we will always find the right expert for your case.
If you would like to talk to our team about instructing one of our experts, please get in touch. Foresight brings the UK's most comprehensive panel of expert witnesses to support family and criminal law cases. As an industry-leading provider, we help legal professionals save time and work smarter by sourcing the most suitably qualified and highly experienced expert to support their case within LAA rates, if required - no matter the discipline, no matter the deadline.